THE STUDIO
Address: 22 – 24 Torrington Place, WC1E 7HJ.
Nearest tube: Goodge Street (Northern Line).
The facility has been designed to accommodate recording, mixing, overdubing, mastering & post production. There are tie lines connecting certain rooms so that, should it be required, one or more of the control rooms can be used as a live recording area. Some furniture is included, but no equipment.
CLIENT LIST
The client list shows that this has been the studio of choice for a great many world renowned artists, not just because of the fun, relaxed atmosphere but also for the convenient location. The studio is situated in the heart of London's West End, providing the best in pubs, clubs, bars & restaurants, open 24 hours and all within walking distance. This is particularly attractive to guests who are travelling long distance and are staying in a hotel nearby in the West End.
WEBSITE
As this is one of the last remaining recording studio complexes that has been able to survive in central London, the website is consistently among the leading results of Google searches and that is worth a great deal in potential revenue for any commercial recording business that may be established here.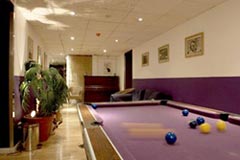 PARKING
If parking is required, there is a limited number of parking spaces within the studio complex with CCTV & 24 hour access. Parking is charged at £20 per 24 hour day.